Volám sa Matúš Basanda a toto leto som zažil najväčšie dobrodružstvo vo svojom živote.

Možno už šípite, čím sa moje leto odlišovalo od všetkých doterajších – dostal som ponuku zúčastniť sa dobrovoľníckeho projektu Dobrej noviny v Afrike. Nikdy nezabudnem na ten moment, keď som otvoril správu, v ktorej sa písalo – radi by sme ti ponúkli projekt v Keni. Nedokážem slovami opísať radosť, ktorú som vtedy prežíval. Nemožné sa stalo skutočnosťou a život obyčajného junáka spod vihorlatského pralesa čakalo leto plné zážitkov a výziev v úžasnej, exotickej kultúre, ktoré zmenili jeho pohľad na život i životné hodnoty.

Na tri mesiace sme sa spolu s mojim parťákom Romanom stali členmi rehabilitačného centra Mwangaza, ktoré sa venuje drogovo závislým chalanom z ulice a slumov. V Mwangaze som vyučoval hudobnú výchovu a Roman vyučoval informatiku. Okrem vyučovania sme však robili aj množstvo iných aktivít, pri ktorých sme sa spolu s chalanmi stali žiakmi.

Keďže sme žili spolu pod jednou strechou tri mesiace, stali sme sa jeden pre druhého rodinou, zdieľali sme spoločné strasti i slasti, smútok i radosť, učili sme sa a podporovali. Spoločnými silami sme si pomáhali v seba rozvoji a môžem s úprimným srdcom povedať, že chalani boli úžasní a stali sa pre mňa druhou rodinou v mojom druhom domove 🙂

Rýchlo som pochopil, že som tam nebol len učiteľom, ale najmä žiakom, ktorý mal príležitosť žiť s miestnymi v ich prirodzenom prostredí a spoznávať tak bezprostredne kultúru v Keni.

Dnes sú to už mesiace, odkedy som sa vrátil späť na Slovensko. Tri mesiace zbehli ako voda a ja mám pocit, ako by to zbehlo, sťa týždeň. Keď som sa vrátil, mal som dojem, že sa na svoj starý svet dívam novými očami, a že už nie som ten istý človek, ktorý v júli odišiel zo Slovenska.

Účasť na tomto projekte a úžasná srdečnosť, s ktorou som sa stretával pri spolunažívaní s miestnymi vo mne zanechala stopu v srdci, ktorá so mnou bude putovať po zvyšok môjho života. Poviem vám pravdu, vôbec sa mi naspäť tak skoro vrátiť nechcelo a jediná vec, ktorú by som na svojej ceste zmenil je dĺžka pobytu – jednoznačne by som si ju predĺžil 🙂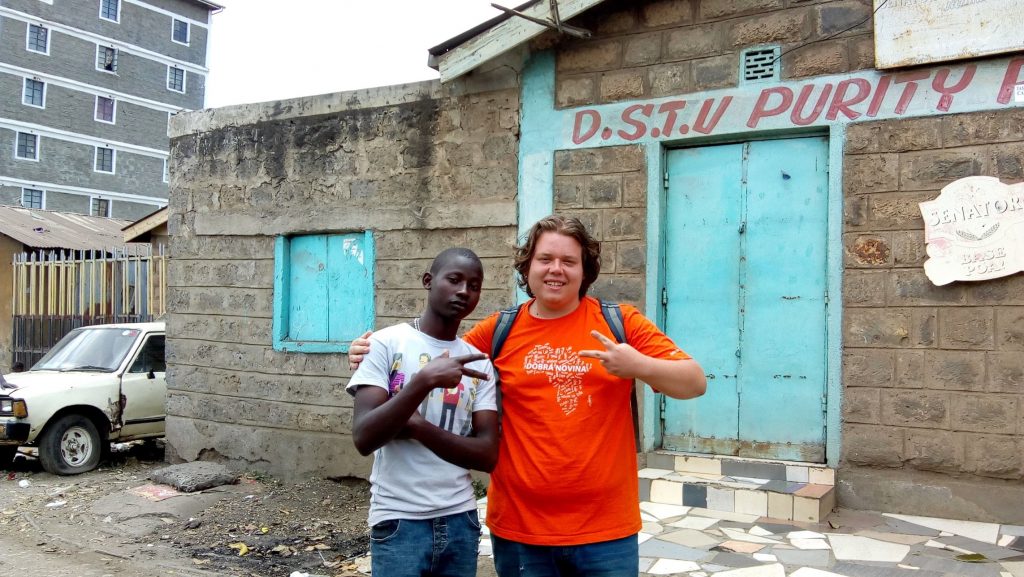 Ak preto čo i len premýšľate dať sa na dobrodružstvo v Afrike, z mojej skúsenosti vám jednoznačne odporúčam ísť na takýto projekt. Zmení vám to nie len pohľad na život v Afrike, ale i na život v Európe.

Dobrovoľnícky projekt finančne podporil SlovakAid.